Hello everyone!

I can't believe I've reached 100 followers.

I have to thank everyone who follows my blog.

I was a blog stalker for over a year. W

ho would have thought that less than one month ago when I started my little blog for a graduate class that I would have become a member of the best group of people ever! The blogging community is like no other out there. If you have a question or a concern someone is there to help you out. I've never been prouder to be a member of this group. Thank you everyone for letting me become a part of it.
A

special thanks to Tonya from Tonya's Treats for Teachers and Megan from I Teach, What's your Super Power .

Without these two ladies, I wouldn't be where I am today!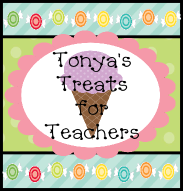 And that brings me to my very first giveaway! YEAH!! I wanted to make it a nice one, so I asked my two mentors above to be a part of it with me. They agreed, so here you go.
I am giving away one of everything from my TPT store and a $10.00 gift card for Target (since we all seem to be spending so much time there)!! Tonya is giving away $10.00 from her TPT store and Megan is giving away 1 free item of your choice from her TPT store! Arent' they the best?!
a Rafflecopter giveaway